Street lighting cabinets are used to distribute energy and to protect elements against short circuits and overloads.
Better visibility in areas inhabited by people, provided by street lighting, reduces the number of unfortunate traffic accidents (according to various sources - a decrease of 30-45%), and also reduces the threat of crime.
However, to make the street lighting to fulfill its task, we need not only street lights, but also such an important element as the Street Lighting Control Station (ROU briefly) colloquially known as the Lighting Cabinet.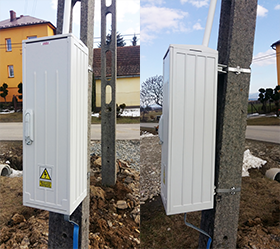 Lighting cabinets allow the control of the moment of switching on and off the lighting of streets, parks or squares.
The most widespread ROU group are switchgears with direct measurement, controlled by a digital astronomical programmer, in which the hours of switching on and off the lighting are introduced on the basis of data from the sunrise and sunset table. This solution causes almost maintenance-free operation of the ROU displacing the twilight switches used until now.
For several years, in cooperation with leading manufacturers of lighting controllers, we have implemented in our Switchlights Street Lighting Control modern systems for remote monitoring and management of street lighting.
These systems allow you to select the lighting on and off time in an intelligent way, smoothly adjust the intensity of light or reduce active or reactive power.
The main advantages of such solution are:
full control and management of the system via a website or a mobile application,
GPS time synchronization - GPS time and geographical location taken from GPS allow accurate calculation of sunrises and sunsets on a given day and place,
communication:

GPRS, SMS,

the possibility of emergency switching on / off of lighting (from a mobile phone or website),
real-time monitoring and analysis of network parameters: current, voltage, energy consumption, active power, reactive power,
remote exchange of software and settings after GPRS,
immediate information about the occurrence of an alarm situation, i.e. loss of supply voltage, loss of individual phases, power exceedances / declines, cabinet openings,
the ability to adapt road lighting to the current traffic (based on data from an external traffic control system).
We produce street lighting cabinets based on metal enclosures and enclosures made of thermosetting plastic reinforced with fiberglass (SMC composite).
We manufacture switchgears in thermosetting housings in II insulation class with different degree of tightness and in metal casings:
cabinets type OSZ i KSZ - IP44, IK 10,
tight enclosures HYDRA – IP 65-66, IK 10,
in metal enclosures in a wide range of materials :
- carbon steel,
- steel coated with zine or aluzine,
- aluminum,
- stainless steel.
Expected assembly places::
free-standing cabinets with an additional foundation,
cabinets adapted for mounting on the facade of a building or in a column.
Depending on the customer's needs, we assemble:
fuse bases
fuse strip bases
fuse disconnectors
switch fuse disconnectors,
and other modular apparatus creating any configurations in all connection systems
In street lighting cabinets, depending on the customer's needs, we assemble::
meter boards,
overcurrent switches
full bases,
astronomical clocks
terminal strips,
signal lamps
power sockets
contactors creating any configurations in all connection systems.
Fuse bases can be terminated with V type clamps or screw terminals. The whole connection is supplemented by a PEN or PE + N rail.
Basic parameters

:
I

n

measuring part max
63A
In connector part max
160A
Rated voltage
230/400A
The rated volateg of the insulation
500/690V
Nominal frequency
50~60Hz
Degrees of protection
IK10, IP44(opcja IP54)
Working temperature
-50ºC; +85ºC

Icw rated current, short - term, withstand

20kA

Ipk Rated current, peak, withstand

40kA

Permissible duration of the electric ars

100ms

Protection class

I - for metal enclosures with the option of partial isolation
II - for thermoset enclosures